What Is a Blowout?
Everyone likes to look and feel their best, and a blowout for your hair may be one of the best ways to accomplish that goal.
You probably have plenty of questions about this service, such as what the experience will be like, how long it will take and how much it will cost you. You can find all of the answers to those questions and many others in this easy style guide.
What Is a Blowout?
A blowout is a unique way to style your hair using only heat and air to create smooth, shiny tresses with plenty of volume. The experience also includes a full shampoo and conditioning experience along with application of the perfect products designed to bring out the best in your hair.
Most blowouts are achieved in several steps for the best look. To begin, your stylist will get your hair ready with a shampoo designed to boost the health of your hair followed by a conditioner for hydrating and improving your hair's shine.
Then, your hair is towel-dried. Your stylist will apply a detangling product or heat-protective spray such as one from Pureology or Amika depending on the current health of your hair.
Next, it is time to blow dry your hair using a quality round ceramic brush (like this one), which holds heat from the dryer and transfers it to your hair. These products and brushes help eliminate frizz while creating an incredibly smooth look.
Finally, the stylist will use cool air and a variety of products to set your desired style.
Brazilian Blowout
The Brazilian blowout is a type of smoothing treatment that creates even more intense shine thanks to the keratin-containing products (such as this) applied to your hair before drying.
This is an excellent option for people with all types of hair textures, and it can even work well on fine strands that are normally dragged down by conditioning products.
After this type of blowout, you may find that your hair is easier to manage than it ever has been in the past. This benefit comes from the keratin that completely coats every hair strand, protecting it from environmental elements that would otherwise cause it damage.
How Much Does a Blowout Cost?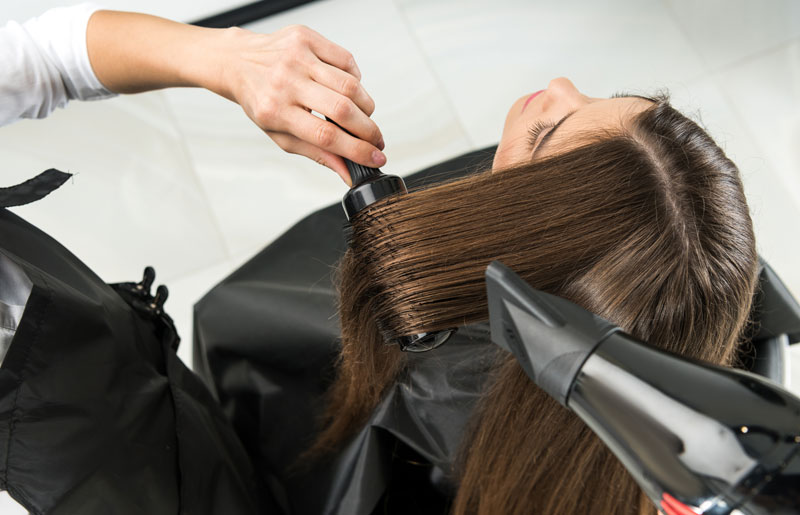 Of course, a blowout service can vary widely in cost based on the salon you choose. Going to an Ulta Salon or a local high end salon is obviously going to cost more than a blowout at somewhere like Fantastic Sams. is  any add-ons you request and the texture and length of your hair.
Most blowouts will only set you back $45 or less. However, some high-end services can cost up to $90.
A Brazilian blowout will cost even more, but you will certainly be gaining when it comes to months of manageability. Most of these blowouts cost at least $200 with the average price coming in at approximately $400.
How Long Does a Blowout Take?
If you only take 5 to 10 minutes to blow dry your hair at home, you may be expecting something similar during a professional blowout. However, you should budget more time than this for your appointment because most blowouts take approximately 45 minutes from start to finish.
If you are opting for a Brazilian hair smoothing treatment, you should budget even more time because many appointments take from an hour to an hour and a half to complete based on your hair texture.
How Long Does a Blowout Last?
For a typical blowout, your straight, smooth tresses should last anywhere from three to five days. In fact, the longer you get regular blowouts, the longer you may be able to wait between appointments as your hair and scalp will get used to your treatments.
Also, keep in mind that you may need to come in more regularly if you have very fine or oily hair. On the other hand, the keratin treatment from your Brazilian blowout can last from three to four months as long as you care for your hair well in the meantime.
Related: How to Keep Hair Straight Overnight
Can You Blowout Hair at Home?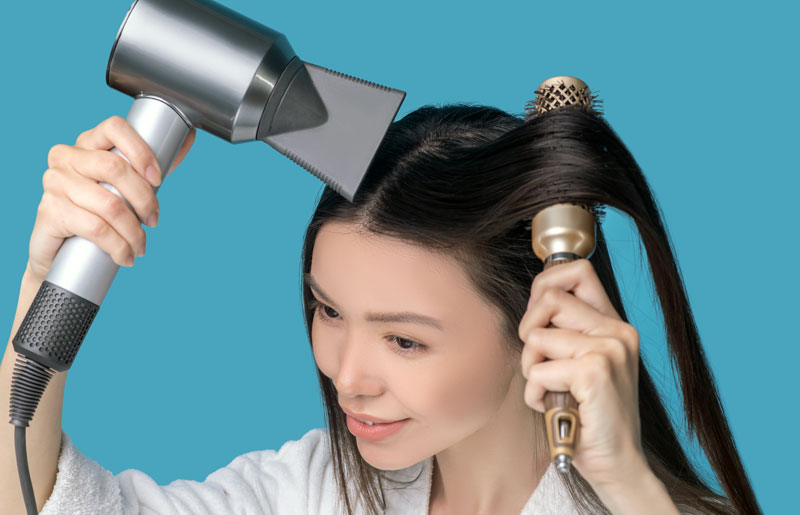 After watching your stylist tame your hair several times, you may think that you can save some money by doing this yourself at home.
However, keep in mind that you will be losing out on the relaxation portion of the service as well as on the consultation services. In addition, you may have trouble getting the perfect look because you cannot see the back of your head perfectly.
If you do want to try a home blowout or are looking for a way to care for your tresses between appointments, invest in a hair dryer with a tapered nozzle for directing hot air and a cool button for setting your strands.
The BaBylissPRO line is a great option. Their Nano Titanium Dryer is a huge step up from cheap hair dryers and comparable to ones costing 3-4x more.
In addition, you will want a round ceramic brush. Choose a wider brush if you have longer hair. You should also pre-dry your hair until it is approximately 50% dry before drying your hair in sections. Be sure to use heat-protective products to increase shine.
See Also: Pros and Cons of Curly vs Straight Hair
Is a Blowout Bad for Your Hair?
While a blowout does require heat to be used on your hair, you should know that the blow dryer will never get as hot as a curling or straightening iron does.
Therefore, while any heat can eventually cause some damage to strands of hair over time, regular blowouts can actually reduce damage when compared to the daily use of a different heat styling product.
If you are looking for a great way to take your hairstyle to the next level or want a delightful pampering experience before your next girl's weekend, be sure to consider a professional blowout.
Taken From: https://www.salonrates.com/what-is-a-blowout/